Get Your Trail Mix in GVL!
When making your plans to explore Gainesville, remember to pack your hiking shoes! Gainesville, Georgia is full of incredible greenspace and outdoor adventures at every level of athletic ability. Join us as we take a "peak" at some of Gainesville's fan-favorite trailheads!
The following blog was written and submitted by Cody Rogers, Digital Communications Coordinator for the City of Gainesville.
Chicopee Woods Nature Preserve (CWNP) has hiking options for experience levels! CWNP's Dodd Loop, Elachee Creek Loop, Geiger Trail and Upland Trail are the easiest trails, all less than three-quarters of a mile long. The Bridge Loop, Lake Loop and Ridge Trail are better suited for moderately experienced hikers, and the Chicopee Backcountry Trail is considered the longest (4.26 miles) and most difficult. Unfortunately, pets are not allowed on any CWNP trail or loop.
(For more information on Elachee Nature Science Center and to pick up the Chicopee Woods Nature Preserve Trail Map, please visit the City of Gainesville Visitors Center!)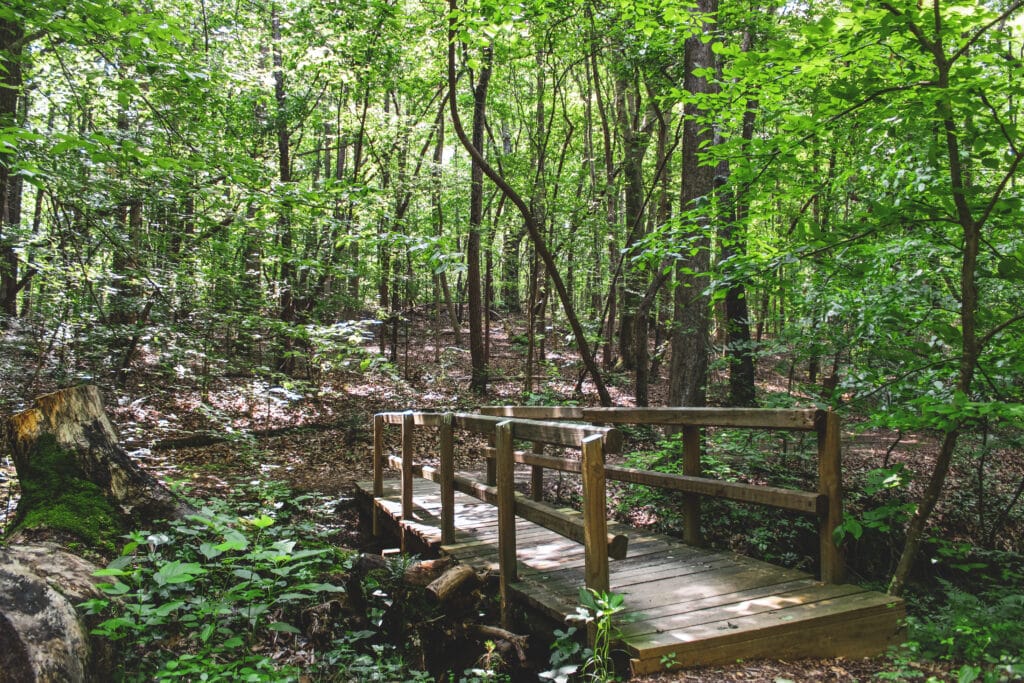 Linwood Nature Preserve is a beautiful destination for hikers hoping to catch glimpses of the many animals that call it home! Linwood is an Audubon Wildlife Sanctuary, with over 40 species of birds sighted within the forest, meadows, creeks and lake habitats. There are many signs and informative stands along the trails for those interested in learning more about the gorgeous scenery.
Located just minutes away from downtown Gainesville, Big Rock Trail is a perfect destination for those seeking a trail experience that is short in distance, but endless in beauty. It features an extended lakeside walk alongside the shore of Lake Lanier, a stop on Gainesville's Solar System Walking Tour, a monument dedicated to the Gainesville Parks and Recreation Foundation (formerly known as Friends of the Parks), a walk through a collection of trees and a park for children to play in.
Along with the scenic walking trails, visitors to Wilshire Trails will pass through: a butterfly garden, cross bridges and boardwalks that stretch across Rock Creek, overlooks with breathtaking views,  and pavilions and playgrounds that make for a perfect family lunch outing or and playdate! During the winter holidays, Gainesville Parks & Recreation hosts the Wilshire Wonderland of Lights, where the trails are full of Christmas lights and decorations.
Want to share your story? Please contact Explore Gainesville Staff!