Join us in Historic Gainesville on
Thursday, April 20, 2023 from 4-8pm
for our first Art Walk!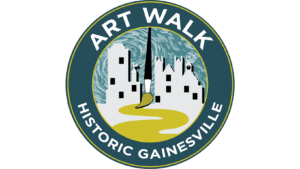 Experience the vast creative culture in Gainesville while you discover local galleries, local artists, and pop-up art shows in various downtown business storefronts. This FREE event offers you the opportunity to buy original art, dine in outstanding restaurants, and shop in unique boutiques!
Thursday evening will be the main event, featuring open house-style meet and greets with featured artists, refreshments, live music, and specials at various businesses in the historic districts of Gainesville. The Gainesville Trolley will make it easy for you to walk the four main areas of the historic district, making stops in Midland, Downtown, Green Street, and Brenau Districts. 
Art may be displayed through the weekend, so if you miss Thursday's event, you can still explore the art galleries and pop-up displays by reviewing the google map below to see business and artist display hours.
All Parking Decks are FREE in Gainesville!
Main Street Parking Deck, 301 Main St.
Hall County Parking Facility, 225 Green St.
North Parking Deck, 130 Main St.
Historic City Hall, 117 Jesse Jewell Pkwy.
This event is presented by Main Street Gainesville, a program focusing on economic vitality through Historic Preservation in our downtown commercial districts.
Check the map for specific hours and featured experiences through the weekend!
Want to be a Featured Artist or host an Artist in your business?
Interested in becoming a sponsor for the Art Walk?
Google Map is still in development; please return to this page in the month of April for an accurate map.