Recreational Programs
Lanier Canoe and Kayak Club's Recreational Programs include memberships and rentals for all ages. As well as a membership program for individuals and families who would like year-round access to LCKC offerings. Learn more below about rentals and our recreational membership below!
---
Recreational Membership
If you are looking for a fun way to enjoy Lake Lanier, LCKC's Recreational Membership is a great deal, with 4 plans to choose from.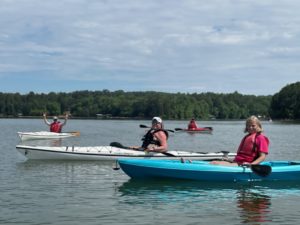 Adult Recreational Paddle Group
Our Adult Recreation Group Paddles meet once a week and are guided by our Recreational Coordinator in a safety boat. At $50 per month you can use our boats and gear with no experience necessary.
If you have your own kayak and gear, this membership is only $40 per month.
Individual Recreation/Family Recreation Membership
Want to paddle more on your own? Then our Individual and Family Recreational Memberships allow just that; time to chill on your time! Individual Memberships run $200 per year and our Family Membership (family up to 4) is $320. We also offer boat storage for an additional $120 a year.
You will benefit from:
Access to our recreational boats during open hours along with usage of our paddles and life jackets

Moonlight paddle, Sunset paddle and Fall Leaf Color Paddle are half off. These paddles are led by a professional coach to ensure safety

Discounts on summer day camp

And, if you have your own kayak, canoe, or SUP, you can store it in the LCKC boathouse for an additional $120 per year. 
Youth Recreational Program
LCKC's Youth Recreational Program offers children ages 9-17 a way to enjoy paddling in a non-competitive format. Participants use recreational canoes and kayaks. They also have other scheduled events beyond the Monday and Friday late afternoon paddling outings. Choose between twice a week or one day a week. All equipment is included. A two day program is $80 a month. One day program is $60 a month.
Homeschool Recreational Program
Our Homeschool Recreational Program offers those in homeschool a mid-day break on Mondays to enjoy time on the water in a non-competitive environment. Similar in format and boat usage as the Youth Recreational, homeschool will also have additional events beyond the paddle outings.
Fees for the Homeschool Rec program are only $60 per month.
LCKC Summer PaddleCamp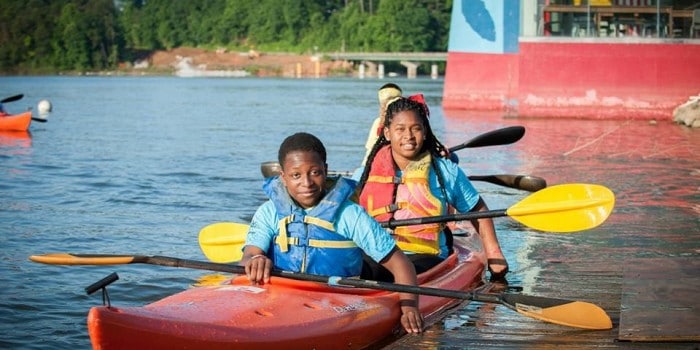 Each summer, LCKC hosts several 1-week sessions of summer paddlecamp from 9:00am – Noon. Designed for kids ages 8 – 15, campers are introduced to the basics of kayak, canoe and dragon boat in a safe and fun environment.   Campers will also have the opportunity to participate in other activities.
Many of the athletes on our youth Sprint Team, and some non-competitive youth in our Recreational program, started out as campers who quickly learned to love canoeing and kayaking on Lake Lanier.
Full Moon Paddle 2023 schedule:
May 5 (8:00-10:30 pm)

June 3 (8:00 – 10:30)

Sept 29 (7:00pm – 9:30pm)

October 28 (7:00-9 pm)
Come paddle under the moonlight on select evenings when the waters indeed become peaceful on Lake Lanier.  Leaving from the Lake Lanier Olympic Park, this guided event sells out every time with advance reservations.  
$40 per person (all equipment included)
All LCKC Individual Rec/Family members half off  – Moonlight Paddle 
LCKC has the best sunset location. Come out and make memories on this guided paddle. Make sure you bring a camera in a water safe case.
May 5 (6:00pm – 8:00pm)
July 22 (7:30pm – 9:30pm)
August 26 (7:00pm – 9:00pm)
Sept 29 (7:00pm – 9:30pm)
Oct 28 (5:00pm – 7:00pm)
$40 per person (all equipment included)
All LCKC Indiviual Rec/Family members half off – Sunset Paddle
It's Leaf Peepin' Time
Join us on the lake as we take a leisurely paddle along the shoreline to take in the splendor of the fall foliage. Bring a thermos of hot cocoa and a smile to enjoy all the beautiful colors. This is a guided paddle. Use our equipment or bring your own.
Please pick a date:
October 20, 2pm – 4pm
October 28, 10am – 12pm
$40 per person (all equipment included) – $20 per person if you use your own equipment. All LCKC Individual Rec/Family Rec members half off – Fall Paddle
Rentals
Come out and give it a try! Rent a Canoe, Kayak,or Stand Up Paddleboard. Summer rentals are available Saturday (10A – 5P), Sunday (11A – 5P) from June through August, with weekdays by reservations made at least 24 hours in advance (info@lckc.org).
Off-season rentals (Mon, Tue, Thu, Fri, Sat mornings) are also available by contacting us via email at least 48 hours in advance.
Our knowledgeable staff  will assist you in choosing a boat, paddle, and life jacket and give you some basic tips to help you get started to help ensure you and your party will have a safe and enjoyable paddle on the lake. All rentals launch from and return to the Lake Lanier Olympic Park Docks at Clarks Bridge Park.
Rates: Single Kayaks and SUP $20 for first hour/$10 each additional hour 4 hour max.                                                                                    Double Kayaks and Canoes $30 for the first hour/$10 each additional hour 4 hour max.
RENTALS WILL BE CLOSED ON Summer Holiday Weekends including Memorial Day, Independence Day, and Labor Day Weekend.